Nazi flag incident puts culture of Marine snipers in spotlight
The photo of Marine snipers in Afghanistan posing in front of a Nazi flag has prompted the top Marine officer to start a review of sniper protocol and training.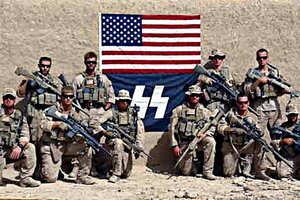 knightarmco.com/AP/File
A top Pentagon officer is launching an investigation into the prevalence of Nazi symbols within the Marine Corps.
The nation's highest ranking Marine officer, Gen. James Amos, also issued an apology "to all offended by this regrettable incident."
The "incident" was a photograph of 10 US Marine Corps snipers in Afghanistan, posing with a Nazi SS flag. The SS, or Schutzstaffel, was the notoriously murderous arm of the Nazi party.
A Marine Corps spokesman said that the snipers in question were not aware of the significance of the flag, and thought that it stood for "sniper scouts."
The now widely circulated photograph comes on the heels of a video which captured Marine squad leader and others urinating on dead Taliban fighters. The Marine Corps says it is still investigating that incident.
The service also has drawn recent criticism for a trial of Marines who killed two dozen Iraqi civilians at Haditha, Iraq, in 2005. The head of the unit responsible for the killing was charged with dereliction of duty and sentence to serve 90 days in the brig – jail time which the Marine commander waived.
Critics said the light sentence for the unit leader – and the decision to drop charges against others associated with the Haditha shooting – failed to convey the seriousness of the Marines' actions.
---