Quran burning: Were prisoners hiding extremist messages in books?
The Pentagon has launched an investigation into the Quran burning at a US detention facility in Afghanistan. Prisoners might have used the books to pass secret messages, a spokesman says.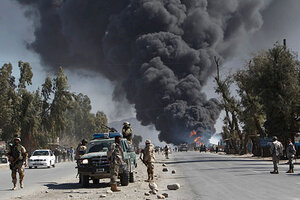 Parwiz/REUTERS
The US military is now investigating whether American military officials ordered Qurans to be destroyed because prisoners at a US detention facility were passing extremist messages in them, an International Security Assistance Force spokesman said Wednesday.
"We haven't got any proof of that yet, and that is a vital part of the investigation that is ongoing," Brig. Gen. Carsten Jacobson said in a Pentagon briefing Wednesday.
Indeed, the entire library of the Parwan Detention Facility at Bagram Air Base, one of the largest US military facilities in Afghanistan, may have been ordered destroyed because of the extremist messages contained in texts, he added.
"It was a considerable amount of material," General Jacobson said, though he added that he "cannot say" if it was the "entire" library.
There have been some 2,000 demonstrators around Bagram Air Base, as well as "attempts to enter" the base, he said, adding that there was "near penetration" of the base.
There have been fatalities north and east of Kabul in demonstrations around the Quran burnings.
"It is a grave mistake," Jacobson told reporters in a briefing Wednesday, "and we're all aware of the grave implications this mistake has."
He also acknowledged "considerable anger" among Afghans.
Indeed, demonstrators have burned tires and thrown stones. There have also been "shots fired," at some of the installations, Jacobson said.
---