Does Rush Limbaugh belong on armed forces radio? Criticism mounts.
The Armed Forces Network broadcasts the 'Rush Limbaugh Show.' But Limbaugh's 'slut' comment only reinforces negative military stereotypes about women, leading some veterans to start a petition against the show.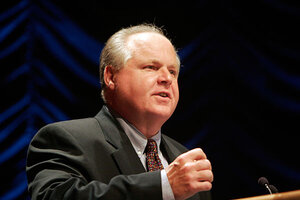 Micah Walter/Reuters/File
Will the Pentagon pull Rush Limbaugh's radio show from the armed forces radio network?
Broadcast to troops in bases throughout the world and aboard US Navy ships, the network's self-described mission is to provide "a touch of home" for service members overseas.
Yet as the furor over Mr. Limbaugh's description of a Georgetown University student as a "slut" reaches troops overseas, US military veterans as well as soldiers serving in Afghanistan are asking the Pentagon to drop Limbaugh's radio program from its lineup.
An organization of some 100,000 US military veterans of the wars in Iraq and Afghanistan, VoteVets.org, is also circulating a petition calling for the removal of Limbaugh's show from the US military's network, and signatures on it are growing everyday, says Maj. Jon Soltz, the chairman of VoteVets.org.
There are currently more than 11,000 military veterans and family members who have signed the petition.
In denigrating the student, who testified on Capitol Hill in favor of health-care coverage of birth control, Limbaugh "is commenting not on an individual, but on all women," says Major Soltz, who returned from his second tour of duty in Iraq in December. "The government shouldn't be promoting the type of content that essentially disrespects all women in the military who use contraception."
---