Army sergeant suspected in Afghan massacre did 'multiple tours' in Iraq
The Army sergeant alleged to have killed 16 Afghanistan civilians on Sunday acted alone, Pentagon officials continue to say. They are treating it as an isolated incident, not as a sign of mounting frustration within US ranks about the Afghanistan war.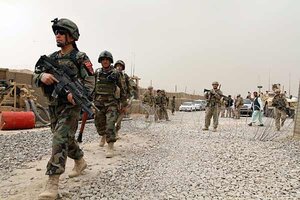 Allauddin Khan/AP
A portrait is gradually emerging of the US military soldier who is believed to have walked off base and methodically gunned down 16 civilians – including children – in southern Afghanistan on Sunday.
He is an Army sergeant. He had served "multiple tours" in Iraq. He is not a member of Special Operations Forces, as had been suggested. He appears to have turned himself in, and at no time was he in the custody of Afghan security forces.
Though publicly known details about the alleged assailant and the incident itself remain sparse, senior defense officials have been careful to insist that this Army staff sergeant was a lone shooter.
"We believe this was a lone shooter who was involved in this deeply tragic set of shootings," says George Little, Pentagon press secretary. In preliminary investigations, "every indication we have at this point" does not indicate that the shooter coordinated with any other US military service members in allegedly conducting the murderous rampage.
The Pentagon says it will not release his name because the US military has not yet filed charges against him, and officials would not say how long that might take.
Pentagon officials insist, too, that the suspect's actions are not part of a broader trend of US service members airing their frustrations about the war in Afghanistan or seeking revenge for the deaths of fellow US troops at the hands of the Afghan security forces they are training.
"You can't necessarily take an isolated incident, or two, or three, and draw a broader trend line," Mr. Little said Monday at a briefing.
Nor has the terrible incident resulted in the US miltiary "changing our fundamental strategy" in Afghanistan, he added.
The shooting rampage Sunday, however, comes on the heels of widespread Afghan outrage about the burning of Qurans – whether inadvertent or not – that several US troops are alleged to have taken part in earlier this month.
---