Obama, Cameron tout Afghanistan exit plan, but will Afghan troops be ready?
In the Rose Garden, Obama and Cameron say local forces will take 'full responsibility' for Afghanistan's security in 2014, but their readiness is not assured despite years of training.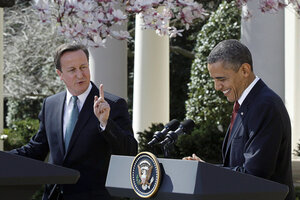 Charles Dharapak/AP
US and NATO troops in Afghanistan will be "shifting to a support role in 2013, in advance of Afghans taking full responsibility" for the country's security in 2014, President Obama and Prime Minister David Cameron of Britain announced Wednesday in the Rose Garden.
Some argue that such a move – US defense officials say ideally by the middle of 2013 – is long overdue. But is there any indication that Afghan troops are ready and able to handle security throughout the country come next year?
Although US forces have been at war in the country for a decade, training Afghan troops has been a notoriously slow-going process, as US military commanders routinely acknowledge.
Today, the training effort is at the heart of the Pentagon's strategy on the ground. Get Afghan soldiers and police ready to defend their country, so that US troops can leave, the reasoning goes.
---