Sgt. Robert Bales: Defense team begins building case on PTSD
In the killing of 16 Afghan villagers, Staff Sgt. Robert Bales' defense team may build their case on post traumatic stress disorder. Though PTSD can be connected to aberrant and violent behavior, it's a hard case to make in court.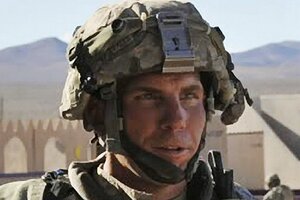 Spc. Ryan Hallock/DVIDS/AP
As Army Staff Sergeant Robert Bales sits in an isolated cell at the US military prison in Leavenworth, Kan., waiting to learn of formal charges for wantonly killing 16 Afghan villagers in a night time rampage a week ago, supporters and his lawyer are beginning to build a defense case.
The details will be unique to Sgt. Bales. But inevitably they boil down to what hundreds of thousands of GIs have experienced over 10 years of war in Iraq and Afghanistan: the sometimes almost unbearable stress of violent combat and the strains of military life on individuals and their families.
In Bales' case, according to initial reports from family members and the Seattle attorney they have engaged, that includes injuries during three previous tours in Iraq, witnessing at close hand the death and dismemberment of fellow soldiers, and financial difficulties on the home front at Joint Base Lewis McChord near Tacoma, Wash.
That's the initial contention of Bales' civilian lawyer, John Henry Browne of Seattle, who has cited post traumatic stress disorder (PTSD) as a possible element leading to a horrific episode that killed and injured mainly Afghan women and children.
---