Question 21: Does it punish troops who are victims of sexual assault?
Question 21 on applications for troops seeking national-security jobs asks if the applicant has ever needed any mental-health counseling. Troops with post-traumatic stress disorder or martial problems are exempted. Victims of military sexual assault are not.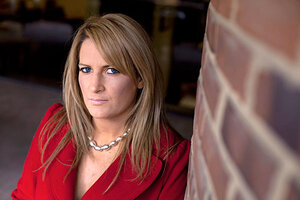 Carolyn Kaster/AP/File
When Tech Sgt. Jennifer Norris was raped during her time in the Army, she sought help in the form of counseling and antidepressants.
But years later, as she contemplated a switch to a new job within the National Guard, that decision to seek counseling for sexual assault put her security clearance – and her job – in jeopardy.
The issue was "Question 21," which asks anyone applying for a national security-related job: "In the last seven years, have you consulted with a mental health professional (psychiatrist, counselor, etc.) ... about a mental health related condition?"
US troops can answer "no" to the question – even if they have received counseling – so long as the therapy was for post-traumatic stress resulting from battle, marital strife due to war-related separation, or grief counseling from losing a fellow soldier.
But not for victims of military sexual assault, and advocacy groups are now pushing to change that.
The Service Woman's Action Network (SWAN) was alerted to concerns surrounding Question 21 after receiving phone calls from sexual-assault victims afraid of losing their security clearances after seeking counseling.
Those troops "are literally hanging on and white-knuckling this process out of fear that their careers will be jeopardized along with any future civilian job prospects," says Anu Bhagwati, a former Marine officer and executive director of SWAN.
For her part, Ms. Norris stopped taking antidepressants "to safeguard my career," she explains. "I had to keep going on and off medication because I didn't want it to show up on my drug test."
She paid for counselors out of pocket in the hopes the military would never find out. It was expensive, however, "so I couldn't get the consistent counseling I needed."
When she ultimately acknowledged on Question 21 that she was receiving counseling and on medication, she was suspended without pay and medically discharged from the military. "It was ultimately because I was taking care of myself after being raped that I lost my career," she says. "I love my country. I want to serve."
---