Keeping an eye on China? First US Marines arrive in Australia.
The US is sending 2,500 Marines to Australia – officially to train with troops there and assist in humanitarian efforts. But many experts and diplomats say the real focus is China.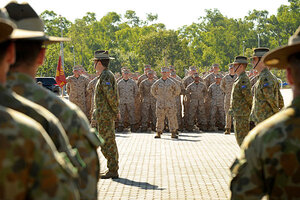 Chris Dickson/Australian Department of Defense/AP
A contingent of some 200 US Marines have landed in northern Australia, part of a broader strategic shift by the US military toward the Pacific.
That force size is expected to grow to 2,500 total US troops in the months to come.
The move has been widely interpreted as a signal to China, with its rising military force helmed by commanders who are often less-than-transparent in their intentions, Pentagon officials often complain.
Yet military officials stress that the focus of the US troops will first and foremost be on goals that don't involve China. "There are two big thrusts here. One is obviously training with Australian defense forces and strengthening our already strong alliance with them," says Capt. Greg Wolf, a US Marine Corps spokesman.
The other is to deploy throughout the region to participate in theater exercises "and further regional security in that part of the world," Captain Wolf adds.
The Marines will also be on hand to respond to humanitarian disasters, such as the tsunami that swept through southeast Asia and last year's earthquake in Japan.
Australian officials have been slightly more provocative regarding the US troop arrival. "The world needs to essentially come to grips with the rise of China, the rise of India, the move of strategic and political and economic influence to our part of the world," Australian Defense Minister Stephen Smith said as he greeted the charter flight carrying the company of US Marines.
---