Can a Marine call Obama a 'religious enemy' - and still be a Marine?
A military panel recommended a 'less than honorable' discharge for a Marine who railed against President Obama on Facebook. But the Marine's lawyers say he has First Amendment rights.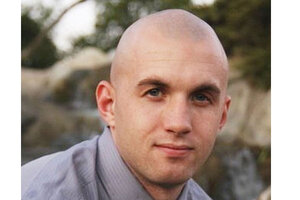 Gary Stein/AP
Is the US military violating the First Amendment by recommending the other-than-honorable discharge of a Marine who criticized President Obama on Facebook?
That's what lawyers for Sgt. Gary Stein are arguing.
Sergeant Stein has called the president "the economic and religious enemy" and advocated for Mr. Obama's defeat in the upcoming election through the sale of NOBAMA 2012 bumper stickers on one of four websites (including Armed Forces Tea Party) that Stein operates.
The Marine also allegedly put the president's face on a "Jackass" movie poster.
The US Marine Corps has charged that Sergeant Stein's comments were "prejudicial to good order and discipline."
The case raises questions that have long dogged the American military, says Eugene R. Fidell, who teaches military justice at Yale Law School. "It's one of these cases that comes up from time to time that puts in high relief the tension between the rights of service personnel, and the obligations that come with the privilege of wearing the uniform. It's an age-old issue in an open society such as ours."
There was a time that commissioned officers were encouraged not to vote, Mr. Fidell points out. That has since changed, and US troops are sent absentee ballots when fighting wars overseas.
Today, however, Pentagon rules continue to prohibit US troops in uniform from taking part in any TV or radio show that advocates for or against a political party or to speak at political rallies.
Still, similar debates about the line between freedom of speech and what might be regarded as threats to civilian control of the military continue. During the Nixon administration, for example, an enlisted soldier with a bumper sticker that read "Impeach Nixon" was brought up on charges "and the authorities had to figure out what if anything was to be done," Fidell notes. "I think they ultimately just said 'To hell with it,' and let it go."
---