Brigade that posed with dead Afghan bombers showed signs of trouble
Newly published photos show US soldiers posing with dead Afghan insurgents, trophy-like. In 2009, before that brigade had left for Afghanistan, its commander was uneasy.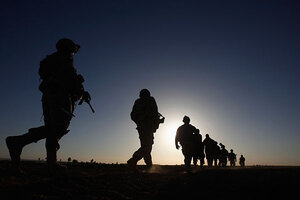 Baz Ratner/Reuters
Col. Brian Drinkwine had an inkling of trouble even before his 4th brigade of the 82nd Airborne Division left for Afghanistan.
Originally slated to go to Iraq, the brigade received a change in orders: become badly-needed mentors for Afghan security forces. At the time, the brigade was the largest single Army unit ever given the specific mission of training Afghan troops, a mission that senior Pentagon officials acknowledged had too few resources and too little focus.
The troops of the 4th were less than enthusiastic, said Colonel Drinkwine in a June 2009 interview.
"I cannot say there wasn't some initial disappointment when we learned that's what we would be doing," he said, suggesting that his troops were concerned by the notorious corruption in Afghanistan.
He predicted confusion and uncertainty on the battlefield. "When I was young, I had a jeep. You could look under the hood and know what's going on, how it all works," he said. The tour for his brigade in the months to come would not be like that, he acknowledged.
Now, the Los Angeles Times has published photos taken in 2010 of members of that brigade posing with the body parts of insurgent bombers who had blown themselves up. The news raises questions about the tensions between the rigors of war for soldiers on multiple deployments and the possible breakdown of leadership within the brigade run by Drinkwine, a former division one hockey goalie at West Point.
---