As war wanes, how will US military retain its best warriors?
Today's troops have acquired invaluable experience in battle. But when the fighting ends, the US military must find ways to keep the force engaged or risk losing all that expertise.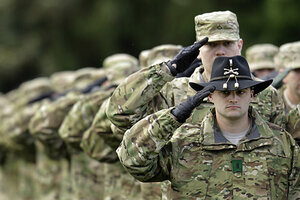 Ted S. Warren/AP
Amid mapping out daily battles against insurgents from his headquarters in Jalalabad, Afghanistan, Col. Richard Kim has found himself considering a completely different campaign of the not-too-distant future: how to keep the brigade he commands together when it returns home.
Ten years of war have taken their toll in lives lost and soldiers taxed by repeated deployments. But they have also made US Army troops and officers more schooled in the complexities of warfare than perhaps any fighting generation in American history. Indeed, the counterinsurgencies in Iraq and Afghanistan have made soldiers not only leaders in battle but also de facto diplomats.
For that reason, today's soldiers represent an irreplaceable resource for the Pentagon. The emerging question, then, is how to keep the profession of arms interesting to soldiers who may feel they have lived in real life the training exercises that characterize life at home.
First, of course, soldiers will rest. But after that, US military officials hope, they will begin new peacetime routines designed to keep them enthusiastic and in the force – from relearning how to operate tanks to using their knowledge to shape new cadets.
---