F-22 safety questions remain despite Panetta's order
Defense Secretary Leon Panetta ordered the Air Force to take steps to address safety concerns surrounding the F-22 stealth fighter jet. But critics say his directive doesn't go far enough.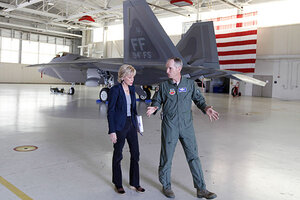 Steve Helber/AP/File
One military watchdog says Defense Secretary Leon Panetta's order aimed at preventing F-22 stealth fighter jets from crash-landing does not go far enough in preventing potential pilot injury or death.
On Tuesday, Secretary Panetta told the Air Force to speed up installation of a backup oxygen system in F-22s and to keep F-22 flights near emergency landing strips at all times "should a pilot encounter unanticipated physiological conditions during flight," according to a Defense Department news release.
But "what Panetta has done is very minor and doesn't change that the pilots remain at risk," says Winslow Wheeler, director of the Straus Military Reform Project in the Project on Government Oversight.
The secretary's directive comes after years of problems that have plagued the most expensive fighter jet in military history. This month, news programs on CBS and ABC aired the concerns of two F-22 pilots who said they refused to fly the plane after becoming woozy and dizzy in mid-flight. The issue appears to be related to the plane's oxygen-distribution system.
Already, Air Force officials had decided to ground the F-22 last May after nearly a dozen symptoms of oxygen deprivation, or hypoxia, were reported. But the service resumed flights in September, and since then nearly a dozen more possible such cases have been reported, according to Pentagon officials. At least one Air Force pilot death in an F-22 crash is suspected to be related to oxygen deprivation.
---