This Memorial Day, many Vietnam vets, long silent, are finding a voice
This year marks the 50th anniversary of the start of the Vietnam war, and President Obama will pay tribute Monday. It's a sign that, at last, Vietnam vets are being and feeling embraced.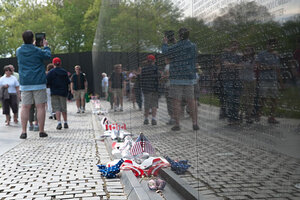 Joanne Ciccarello/The Christian Science Monitor/File
A former helicopter pilot in Vietnam, Mark Nestor had for a decade spearheaded a ceremony during a Memorial Day parade in Gloucester, Mass., for his fellow veterans of the infamous war.
This year, however, the city decided to skip the stop along its parade route at the modest Vietnam memorial nestled in a corner of the campus of a local high school that saw 11 of its graduates die in the war. "The argument is based on 'We are one country that has fought many wars,' " Gloucester Mayor Carolyn Kirk told the hometown newspaper. "With veterans returned and returning from Desert Storm, Iraq, Afghanistan, etc., the concern was that every war would end up with its own Memorial Day service."
As the nation commemorates the 50th anniversary of the beginning of the Vietnam war this year, the choice of this particular Memorial Day to cut the Vietnam war memorial from the parade route hit particularly hard, says Mr. Nestor.
But what happened next was a poignant and surprising show of community support, he adds: The city's office, Facebook, and Twitter pages were inundated with calls to keep the Vietnam memorial stop along route. "The outpouring was absolutely astonishing."
---