After sex scandal, Air Force mulls using only women to train female recruits
Dozens of young female cadets were the victims of sexual misconduct by their basic training instructors. In response, the Air Force is considering using more, or only, women to train women.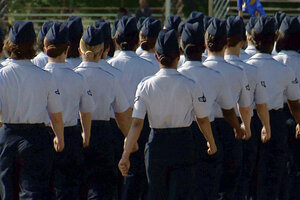 John L. Mone/AP
In the wake of a wide-ranging sex scandal in which dozens of young female Air Force cadets were victims of sexual misconduct on the part of their basic training instructors, senior US military officials are considering putting new female recruits under the sole supervision of female basic training instructors.
It would be an unprecedented step for the Air Force, which trains 35,000 new recruits a year, 22 percent of whom are women.
"Benefits?" asked Gen. Edward Rice, head of the service's Air Education and Training Command of the possibility of female cadets in basic training having only other women as instructors. "I"m not sure there is one." He said, however, that this step is currently under serious consideration.
Short of new female recruits only having female instructors, the Air Force is also weighing the possibility of simply hiring more female trainers, he added in a Pentagon briefing Wednesday.
Currently, about one in ten Air Force basic training instructors are women.
These possible measures are the result of soul-searching among Air Force officials, who are currently investigating a dozen US military trainers at Lackland Air Force Base in Texas for sexual misconduct involving dozens of young recruits, all of whom were female.
It was in June, 2011 that the first female cadet came forward to report sexual assault by a trainer.
---