Women in combat: US military on verge of making it official
Women in combat: De facto warriors in Afghanistan and Iraq, women are now closer than ever to the "profession of combat arms." The US military is opening jobs to them closer to the battlefield, and they are pushing to abolish job limits through legal battles.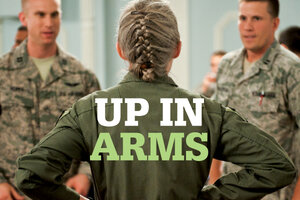 Photo by James Robinson/Special to TCSM;Illustration by John Kehe/Staff
In the opening days of America's war in Afghanistan, Capt. Allison Black's AC-130H gunship thundered low through the night sky. Below, US Special Operations Forces (SOF) were fighting alongside Northern Alliance warlords.
A navigator with the Air Force 1st Special Operations Group, Black was strapped in behind the pilots on a flight deck bristling with radios, gauges, and monitors that kept her in constant contact with SOF forces on the ground, helping them identify targets. It was Black giving the final "clear to fire" consent for the crew to release a barrage from a Gatling gun and other artillery on Taliban forces.
And it was Black's voice that special operators on the ground heard as they fought. Afghan soldiers overheard the chatter, too. On a mission over the northern Afghanistan city of Kunduz in 2001, one particularly fierce warlord, Gen. Abdul Rashid Dostum, "found it amazing" that a woman was directing fire on the Taliban forces, says Black. "He thought it was so hilarious. He asked, 'Is that a woman?' "
When SOF fighters confirmed it was, Dostum, she says, was incredulous – and impressed: "America is so determined to kill the Taliban that they send women," he said.
Then, as Black called in another round of fire, Dostum dialed enemy fighters by phone, so they, too, could hear her voice on his walkie-talkie: "He really berated them, saying 'You're so pathetic, American women are killing you. You need to surrender now,' " Black says.
---