Why a grateful father helped raise $1.1 million to help veterans
Phillip Green did not have to send his children to Iraq or Afghanistan, so he wanted to thank the troops that did go. He's part of a group trying to convince some rich families to pledge 1 percent of their net worth to helping vets.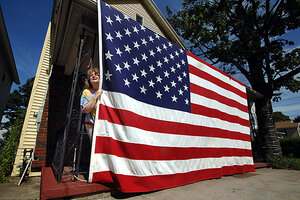 Butch Comegys/The Scranton Times-Tribune/AP
Phillip Green does not come from a military family. He pulled a high draft number for the Vietnam War and had a medical exemption, too.
During the decade of US fighting in Iraq and Afghanistan, Mr. Green, who was not born into wealth, was particularly grateful that his business prospered through the economic downturn.
For this he feels a debt, certain that the success he enjoys today is in large part a direct result of the way of life that US troops have been fighting to defend, often through multiple tours of duty, year after year.
Green, president of PDG Consulting, a health-care consultancy, decided it was not enough to buy a soldier in uniform dinner at the airport or put a yellow ribbon sticker on his car.
Since he was not forced to send his children to war, he believes it is his responsibility to donate part of his wealth to the rehabilitation and care of veterans. "I think all of us are blessed by the fact that we have wonderful children who are doing very good and socially active things and we're very proud of them, but the fact is that none of them have served in the military, nor have their fathers."
He spoke to his close circle of friends – who had the same feelings of unease about the sacrifice of US troops compared to their own – about what to do. "I think we all felt that it's not enough to make token contributions in support of those who have served. We really felt like we had a special obligation to do more."
---