Gun control: Why the US military is fighting with the NRA
US military commanders are trying to cope with an epidemic of suicides within the armed forces. Officials say they are frustrated by a recent law, backed by the NRA, that makes it difficult to talk to soldiers about personally owned firearms.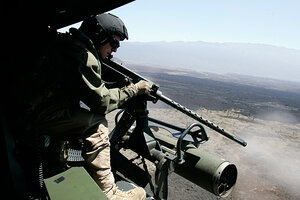 Hugh Gentry/Reuters
US military commanders are increasingly expressing frustration with the National Rifle Association for blocking what they feel are vital measures to keep troops safe.
The controversy revolves around the surge in suicide within the armed forces. The Pentagon is facing an "epidemic," Defense Secretary Leon Panetta told lawmakers this week, with some 206 US troops suspected of taking their own lives so far this year.
"That is an epidemic," he said. "Something is wrong."
As they cast about looking for possible ways to bring down the rates of suicide, commanders say that the answer may lie in having candid discussions with their soldiers about their personal firearms--and to take personal weapons away from those who appear likely to hurt themselves.
"The majority of [suicides] have two things in common: Alcohol and a gun. That's just the way it is," General Peter Chiarelli, the Army's former Vice Chief of Staff, told the Monitor this January, shortly before he retired. "And when you have somebody that you in fact feel is high risk, I don't believe it's unreasonable to tell that individual that it would not be a good idea to have a weapon around the house."
The problem, say US military commanders, is that a new NRA-backed law prohibits them from engaging in discussions about weapons and safety.
"I am not allowed to ask a soldier who lives off-post whether that soldier has a privately-owned weapon," Chiarelli says. The legislation took effect at the end of 2010.
---