Sikh temple shootings: Extremist groups recruit from US military ranks
Investigation into the background of alleged shooter Wade Michael Page highlights practice of extremist groups to target prospects with a military background.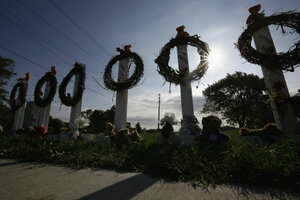 John Gress/Reuters
Are white supremacists recruiting from within the ranks of the US military?
That question – revived by killings at a Sikh temple in Wisconsin this week – has been the fear of civil rights groups like the Southern Poverty Law Center, who have warned that hate groups encourage their members to join up for training and experience that they can later use to perpetrate crimes in the United States.
A former white supremacist who now trains the US military on how to recognize racism within its ranks, T.J. Leyden says he has been brought to military installations to educate service members who are concerned about troops becoming involved with gangs and neo-Nazi activities. "They want to know how to combat it," he says, "and what they should be looking for."
Mr. Leyden says he was encouraged to join the US Marines after becoming a skinhead. "The older guys in the white supremacy world were talking about it all the time," he said. "They say, 'This is a great option – you get some training.' "
They also recruit from among the US military. "A lot of the major white supremacy groups, they have chapters right outside military installations," Leyden says. "They want people with military backgrounds."
---