Why Pentagon's progress against sexual assault is so slow
The military legal system is seen as often punishing victims of sexual assault instead of perpetrators. Pentagon efforts to make headway depend largely on improving prosecutions.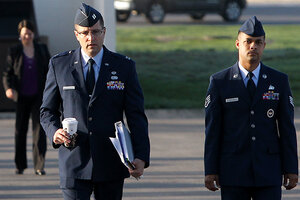 Billy Calzada/San Antonio Express News/AP
For Myla Haider, working as a criminal investigator prosecuting rape cases for the US Army was difficult and often disheartening.
On one occasion, her unit's commander – skeptical of a reported rape victim's story – told her to advise the victim of the penalties for making a false statement and interrogate her "until I got the truth out of her."
On another occasion, a defendant who had failed a lie detector test was acquitted due to botched investigation, Ms. Haider says. The military judge ordered his belongings returned to him, including a bottle of liquor from the night of the alleged attack.
"The judge said, 'You can give this bottle back to the suspect so he can celebrate.' "
It points to a military legal system that, despite years of scrutiny and efforts to improve, remains skeptical of victims of sexual assault and reluctant to bring offenders to justice, critics say.
The most effective way to decrease rates of rape would be to increase rates of prosecution for perpetrators, said troops in a 2011 Air Force survey, the Pentagon's most comprehensive sexual-assault survey to date.
But data show that while 40 percent of civilian sexual-assault allegations are prosecuted, "this number is a staggeringly low 8 percent in the military," according to a statement from Reps. Niki Tsongas (D) of Massachusetts and Michael Turner (R) of Ohio.
There are signs of progress, with the number of prosecutions inching upward and an increasing awareness of the military's tendency to antagonize accusers while failing to scrutinize the serial offenders. But many involved say there is a long way to go.
---