One year after bomb blinded Afghan vet, Paralympic gold
Navy Lt. Brad Snyder was blinded a year ago by an IED blast in Afghanistan. On Friday he won a gold medal for the 400-meter freestyle in the London Paralympics, a performance he hopes will inspire other wounded vets.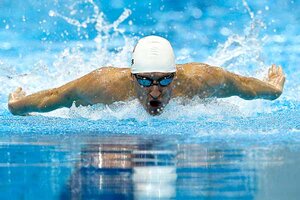 Kirsty Wigglesworth/AP
It was a year ago that Navy Lt. Brad Snyder was on patrol with his explosive ordnance disposal (EOD) unit in Kandahar, Afghanistan, searching for roadside bombs in cooperation with Afghan troops.
Crossing a culvert, an Afghan soldier stepped on a pressure plate. On the heels of the explosion, Lieutenant Snyder ran to help him, only to trip another bomb himself.
After regaining consciousness, he recalls noticing with surprise that both his arms and legs were intact. He got to his feet and walked to the evacuation helicopter.
It was then that he lost his sight.
Friday, on the one-year anniversary of the bomb explosion, Mr. Snyder was winning a swimming gold medal in the 400-meter freestyle at the London Paralympics. It is a performance that he hopes will inspire his fellow combat veterans.
That is precisely what the Paralympics were designed to do from their inception as an event to aid wounded troops returning from war.
That was the intent of Ludwig Guttmann when he founded an archery competition in 1948 for 16 patients at a British hospital for combat veterans wounded in World War II.
A Jewish physician who fled Nazi Germany, Dr. Guttman settled in Britain and, as the war's wounded flooded back to the country, Guttman soon earned a reputation for tough-love treatment of former troops in the course of trying to make their injured bodies stronger.
"Patients thought he was dreadful, nurses thought his ideas were dreadful, and other doctors thought he was mad," his daughter Eva Loeffler told the British newspaper the Independent last month.
He encouraged patients to take part in sports like wheelchair polo, basketball, archery, and ping-pong in the course of their rehabilitation. "He retained that very Germanic strain of authoritarianism – it was difficult to disagree or argue with him," Ms. Loeffler noted. "He was very driven."
---