How credible is the author of 'No Easy Day'?
In his book and in a TV interview, the author of 'No Easy Day' describes the killing of Osama bin Laden and the efforts to identify the body. Fellow SEALs call the book account 'first hand.'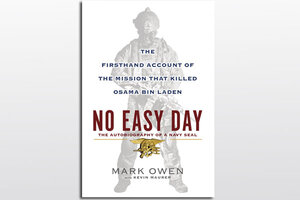 Dutton/AP
Just how reliable is the Navy SEAL who has written the controversial, insider account of the US raid on Osama bin Laden's compound?
Matt Bissonnette, who wrote "No Easy Day" under the pen name of Mark Owen, offers plenty of juicy insider nuggets in the recently published memoir.
Heavily disguised with makeup, Mr. Bissonnette discussed the book Sunday on "60 Minutes," in which he reports surveying a grievously wounded man and trying to determine whether it was, in fact, bin Laden. "In his death throes, he was still twitching and convulsing," he writes.
Bissonnette then describes what happened next: "Another assaulter and I trained our lasers on his chest and fired several rounds."
With that, America's No. 1 enemy was killed by the US Navy's SEAL Team 6.
Hours later, President Obama would announce bin Laden's demise on national television.
The former Navy SEAL then describes how a fellow assaulter squirted water from his CamelBak hose onto bin Laden's face to clear away blood so that the SEALs could better recognize him for identification purposes.
---