9/11: US troops today feel more appreciated, but still poorly understood
Eleven years after 9/11 there are more frequent overt expressions of support for US troops. But with so few Americans in uniform, military families say, the true cost of service is little understood.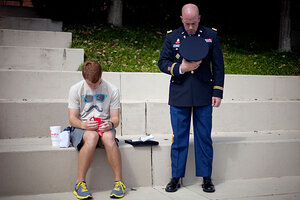 David Goldman/AP
Eleven years after the 9/11 terrorist attacks – and more than a decade after America's longest war began – the troops still fighting overseas say they feel a greater appreciation than ever for the work they do.
On the anniversary of 9/11 and throughout the year, they get standing ovations at sports stadiums and robust applause on airplanes.
But whether most Americans actually understand what members of the armed forces do or share in their sacrifice, they add, is another matter.
"I fear they do not know us," retired Adm. Mike Mullen, former chairman of the Joint Chiefs of Staff, said in a 2011 address to West Point's graduating class.
"I fear they do not comprehend the full weight of the burden we carry or the price we pay when we return from battle."
Clearly, it's not from lack of compassion in the American public, Mr. Mullen and others are quick to stress. But the standing ovations and care packages for troops – while well intended – often only reinforce the impression among military families and spouses that a wide gulf of understanding separates them from the rest of America.
A big reason for the divide is the oft-quoted statistic – particularly among troops – that less than 1 percent of Americans currently serve in the military. More precisely, during this decade of sustained warfare, only about half a percent of the US public has been on active duty at any given time. (At the height of World War II, the comparable figure was 9 percent, according to the Pew Research Center.)
In a survey released in May by Blue Star Families, a military advocacy group, an overwhelming majority of the 4,200 military respondents and their loved ones – 95 percent – said they agreed with the statement that most Americans "do not truly understand or appreciate the sacrifices made by the service members and their families."
---