Libya attack: Pentagon sends elite Marine team to protect Americans
In the wake of the Libya attack that killed the US ambassador and three embassy staff in Benghazi, a specially trained US Marine Corps antiterrorism security team has been sent in. Their mission is to protect and – if necessary, extract – US citizens.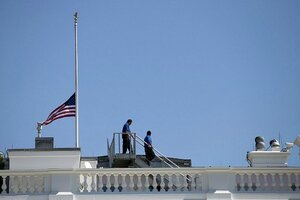 Evan Vucci/AP
The Pentagon has dispatched a team of 50 elite US troops to help bolster the security of American personnel in Libya, according to defense officials.
The Department of Defense stands "ready to respond" with military measures as directed by the president, said a senior administration official who spoke on condition of anonymity during a background briefing with reporters Wednesday afternoon.
The US Marine Corps unit, known as the Fleet Antiterrorism Security Team (FAST), is specially trained to protect – and when necessary, extract – US citizens, as they did when they were sent to bring home US citizens in Liberia in 2003 and in Haiti in 2004.
In the wake of the death of US Ambassador Christopher Stevens, who was killed when armed militants overran the consulate in Libya's second largest city, President Obama vowed to step up security at US diplomatic posts around the world.
It appears as if the consulate in Benghazi was not guarded by Marines, according to a US military officer who was not authorized to speak to the press, but rather local Libyan security forces.
Security in Benghazi included a local guard force, a physical perimeter barrier, and US regional security officers, said a second senior administration official who spoke during the Wednesday background briefing.
Mr. Obama praised these Libyan security personnel who "fought back against the attackers alongside Americans," he said, adding that "Libyans helped some of our diplomats find safety," and carried Ambassador Stevens's body to the hospital before learning that he had died.
"One of the local militias who is friendly to the embassy came to assist as well, and I think that really speaks to the relationship we have built with Libya," added the second senior administration official.
Even so, the dispatch of the US Marines' FAST Team is an acknowledgement that host nations in the region may not be up to the task of protecting US embassies.
---