On Veterans Day, the greatest wound for many is loss of purpose
Capt. Kyle Snook, a third-generation soldier, only wanted to be a platoon leader – a dream shattered by a roadside bomb in Kandahar. Now, he's trying to find meaning after the Army.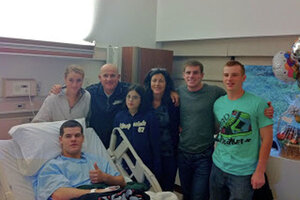 Courtesy Snook family
For Capt. Kyle Snook, military service runs in the family.
His grandfather, retired Col. Robert Gerard, served in the Korean and Vietnam Wars. Snook's parents, retired Cols. Kathleen and Scott Snook, were both members of West Point's class of 1980, where his mother was among the first graduating class of women. And three of his four siblings have attended the US Military Academy – including an older brother who is training to be a special forces officer.
But on this day, the Afghanistan war veteran is sitting on a bench in Boston, wearing a different kind of uniform: a Harvard Business School cap, zip-up sweatshirt, and jeans. Two years ago, he stepped on a roadside bomb in Kandahar, ending his Army career.
Now, he's hoping his two years at Harvard are enough to help him rebuild a new life. After all, for someone who grew up dreaming only of being a platoon leader, life after the Army was never a part of the plan.
On Veteran's Day, America pauses to honor the selflessness and sacrifice of those who have served. As a decade of war in Afghanistan and Iraq wind down, the mental impact of that service has become clearer. For the first time, the military suicide rate is higher than that for civilians, forcing the Pentagon to reshape how it cares for those affected by the stress and trauma of fighting a war without boundaries.
---