Pentagon vs. Al Qaeda: Panetta hints at shifting US tactics
In a little-noticed policy speech, Defense Secretary Leon Panetta says Al Qaeda has been adapting to the US offensive against its leadership, requiring the Pentagon to adopt new tactics.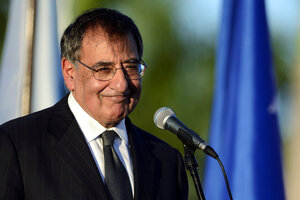 Rhona Wise/Reuters
In a little-noticed policy speech this week, America's top defense official signaled a new direction for the Pentagon's efforts in battling terrorism.
New tactics will include using more special operations forces and drones to conduct small strikes, as well as more partnership with foreign commandos.
These are necessary in part because Al Qaeda has been quietly adapting to the growing US offensive against its leadership, senior US military officials warn.
"We have slowed the primary cancer," Defense Secretary Leon Panetta told an audience Tuesday at the Center for a New American Security in Washington, referring to Al Qaeda. "But we know that the cancer has metastasized to other parts of the global body."
The result is that "the Al Qaeda cancer has also adapted to this pressure by becoming even more widely distributed, loosely knit, and geographically dispersed," Mr. Panetta added.
"After being left on the sidelines of the momentous change that swept through the Arab world last year, they are now seeking to take advantage of the transition period to gain new sanctuary, to incite violence, and to sow instability."
This poses a challenge for top Pentagon officials, Panetta acknowledged. One of these will be figuring out how to help small nations fight terrorists on their own soil.
---