Covert US-Iran war bubbles over with claims of drone capture
Most of the actions in the US-Iran covert war remain mysterious and unclaimed – until one side sees an advantage in shining light on an incident. That's what Iran has done with the drone capture.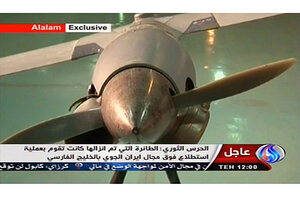 Al-Alam TV/AP
Iranian claims – and US denials – that Iran captured an American reconnaissance drone flying over Iranian territory in recent days offers little in the way of clarity, other than this: The covert war between the two adversaries continues.
Iran's Revolutionary Guard Corps on Tuesday released video through the semiofficial Fars news agency purporting to show an unarmed drone that Revolutionary Guard officials said they "hunted down" recently after detecting it over Iranian territory.
The four-foot-long unmanned vehicle, called a ScanEagle, was shown on Iranian television with a map of the Persian Gulf in the background and the legend, "We shall trample on the U.S."
Those words placed the ScanEagle incident among the other tactics of a smoldering war with Iran and its proxies, among them Hezbollah in Lebanon, and the United States and its partners, including Israel. Such tactics have ranged from unclaimed bombings and the use of cyberworms to assassinations.
The US Navy, which operates ScanEagle drones in the region, responded from the headquarters of the Fifth Fleet in Bahrain that all its drones operating in the Middle East were accounted for. It also noted in a statement, "Our operations in the Gulf are confined to internationally recognized water and air space."
---