How 'fiscal cliff' is already hitting defense industry
Although lawmakers have been moderating dire predictions, some small businesses are talking about layoffs if no deal on the fiscal cliff is reached. And some have already lost contracts.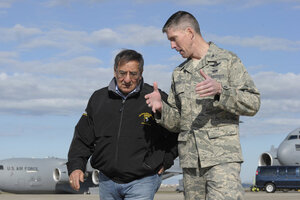 Susan Walsh/AP
Rodney Hudson's 13-person business, QuickSilver Analytics, builds sampling kits for weapons of mass destruction, used by Air Force bases, the Coast Guard, and Special Operations Forces.
Even though the test kits are widely popular and his Abingdon, Md., company's sales average $2 million to $3 million annually, Mr. Hudson is predicting a 15 percent slowdown in orders next year.
That's due almost entirely, he says, to the threat of looming cuts known as sequestration, which would contract the US defense budget by $500 billion over the next decade if Congress doesn't come to a "fiscal cliff" deal.
"I have no idea how it's going to go, but it doesn't look good. You can't plan," warns Hudson, who adds that he is already considering the possibility of laying off some staff.
"We want to be loyal to people as long as we possibly can, but if it looks bad, the bottom line is that we're going to have to let folks go or close the doors."
Sequestration has for months prompted dire predictions of job and income loss among small businesses nationwide. Defense Secretary Leon Panetta, for one, has alternately called the cuts a "meat ax," a "goofy meat ax," and "fiscal castration."
But lately, lawmakers have begun moderating their predictions in an effort to reassure the defense industry in particular.
---