Gay marriage at Supreme Court: Will military couples get more benefits?
Same-sex military couples are not eligible for many benefits that heterosexual married couples in the military receive, including housing and medical care. But the Supreme Court could redefine the federal status of gay marriage next year.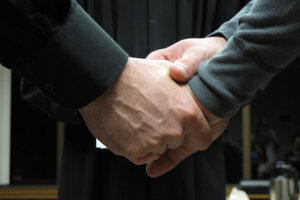 Rachel La Corte/AP
When Chief Warrant Officer Charlie Morgan returned from a year-long deployment to Kuwait with the New Hampshire National Guard in 2010, her doctor didn't have good news. The breast cancer thought to be in remission, the physician said, had returned, and the diagnosis was terminal.
That's when Morgan began a new battle – to make sure her wife and their daughter receive the same survivor benefits that would go to any other married couple with children.
The US Supreme Court's decision to take up the Defense of Marriage Act (DOMA) could have a considerable impact on the benefits of same-sex spouses of service members, who were largely invisible to the military until the repeal of "don't ask, don't tell" (DADT).
So far, the DADT repeal has simply meant that US troops no longer face being forced out of the military for their sexual orientation.
But for the partners of gay troops, the impact of the repeal has been less sweeping and more ambiguous.
Even when gay couples are legally married under state law, for example, Section 3 of DOMA forbids the US government from treating such military couples as married.
And so they are not eligible for the kinds of benefits that heterosexual married couples receive in the military, including housing, medical care, and in the case of Morgan and others, survivor benefits should they die while serving their country.
---