How the Air Force is fighting sexual assault, post-Lackland scandal
The sexual assault scandal at Lackland Air Force Base, the subject of a House hearing Wednesday, is prompting the service to grapple with the need for change. Here's an inside look at how the Air Force is going about it.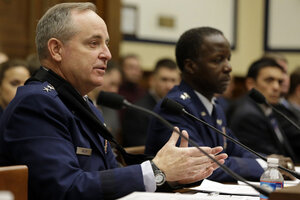 Jacquelyn Martin/AP
In the days before Congress held Wednesday's hearing on the now-infamous sexual assaults at Lackland Air Force Base, senior Air Force officials and advisers met at the Pentagon to hash out just how to tackle the problem within the ranks.
Their discussion closely mirrored the questions that lawmakers raised during Wednesday's hearing, including, "How could there have been such a systematic breakdown of leadership?" and "Is the US military inadvertently creating an environment more conducive to sexual harassment?"
On this point, the Air Force's highest ranking officer, Gen. Mark Welsh III, was candid about what he sees as the keys to solving the problem.
"Why, on what was undoubtedly the worst day of a victim's life, did they not turn to us for help?" he asked. "We are missing something fundamental in human-to-human interaction that will allow them to feel safe enough to come to us and report and let us put our arms around them and help them through this horrible event in your life," he added in his testimony Wednesday before the House Armed Services Committee. "That's at the heart of the problem."
At Lackland, the Air Force identified 59 victims of sexual assault and misconduct. In a wide-ranging investigation that involved at least 7,700 interviews by 550 investigators, the Air Force has begun disciplinary proceedings against 32 instructors, roughly 4 percent of the instructors who have served in basic military training over the past three years.
Combing through the last year of sexual assault statistics, US military officials found a statistic that particularly troubled them: Nearly one-third of victims who agreed to participate in the prosecutions of their alleged offenders changed their minds before the trials, and decided not to cooperate with the prosecution.
---