Cybersecurity: how preemptive cyberwar is entering the nation's arsenal
In addition to authorizing the use of cyberweapons, the White House is preparing an executive order to beef up cybersecurity for critical infrastructure, such as the electric grid, refineries, and telecommunications.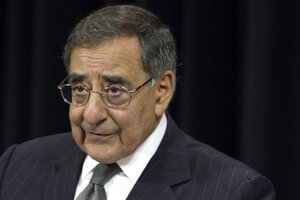 Virginia Mayo/AP/File
A formal, three-year legal and policy review of US cyberweapons that concluded last fall has effectively cleared their use alongside other weapons systems in the US arsenal, a stamp of approval that propels the fledgling US Cyber Command toward a fully operational role within the nation's military structure, cyberwar experts say.
Cyberweapons have been available to the US military since at least the first Gulf War against Iraq, but when, how, and under what conditions they could or should be deployed has been subject to vigorous debate among military and civilian policymakers.
Now it appears cyberweapons and cyberwarfare have nudged up alongside other legally approved military theaters and techniques, including space warfare and electronic war as well as the use of drones, sabotage, and special operations. In particular, cyberweapons were approved in the review for "preemptive" attacks if authorized by the president and if an imminent attack on the US warranted it, the New York Times reports.
While most details of the legal authorizations aren't known, the Times quoted anonymous sources as saying that the new policies "govern how the intelligence agencies can carry out searches of faraway computer networks for signs of potential attacks on the United States and, if the president approves, attack adversaries by injecting them with destructive code – even if there is no declared war."
---