Does it matter who runs US drone program? Pentagon could supplant CIA.
A news report suggests that authority for the US drone program could shift from the CIA to the Pentagon. Critics hope that would open it to more oversight from Congress and citizens.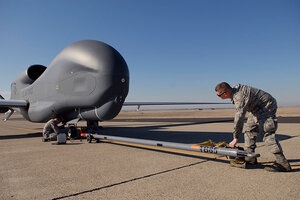 Chris Kaufman/Appeal-Democrat/AP/File
The growing speculation that the White House is preparing to shift its secretive drone program from the Central Intelligence Agency to the Pentagon is raising new questions about just how much more transparency this move would portend.
The hope among critics is that this change would allow greater oversight by Congress – and, by extension, the American public – of America's targeted killing program.
That could be true, experts say. Congress is generally more successful in bringing the Pentagon to heel through budget threats than is the CIA. Moreover, the Pentagon is subject to citizen Freedom of Information Act (FOIA) requests.
But elements within the Pentagon are just as secretive – if not more so – than the CIA, meaning critics might not get the degree of openness they might want.
"Whether transparency increases really depends on who at the DoD [Department of Defense] the program goes to," says Jennifer Rowland, program associate with the National Security Studies program at the New America Foundation.
Sen. John McCain (R) of Arizona, a longtime member of the Senate Armed Services Committee, is pushing for the drone program to change addresses.
"Since when is the intelligence agency supposed to be an Air Force of drones that goes around killing people? I believe that's a job for the Department of Defense," he said on FOX News recently.
"What we really need to do is take this whole program out of the hands of the Central Intelligence Agency and put it into the Department of Defense, where you have adequate oversight, you have committee oversight, you have all the things that are built in as our oversight of the Department of Defense."
But some analysts question whether the move to the Pentagon would truly increase oversight.
"That shift in-and-of-itself does not necessarily create more transparency," says Benjamin Friedman, a research fellow in defense and homeland security studies at the CATO Institute, a libertarian think thank.
In his article for the Daily Beast that broke the news of the reported shift Wednesday, Daniel Klaidman points out that the Pentagon may choose to place responsibility for the drone program with Joint Special Operations Command (JSOC), which is responsible for the Navy's SEAL Team 6, Delta Force, and other equally secretive US military strike forces.
---