Lawmaker drops bombshell: North Korea may have nuclear missiles
An unclassified Pentagon report not yet released to the public suggests that North Korea can arm missiles with nuclear warheads, a lawmaker revealed Thursday.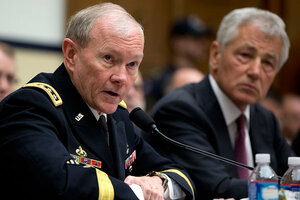 Carolyn Kaster/AP
The results of a classified Defense Intelligence Agency report indicate that "North Korea now has nuclear weapons capable of delivery by ballistic missiles."
That was the bombshell out of a House Armed Services Committee hearing Thursday.
It came when Rep. Doug Lamborn (R) of Colorado began quoting from what he said was an unclassified version of the DIA report, which has not yet been made public.
Chairman of the Joint Chiefs of Staff Gen. Martin Dempsey, the nation's top military officer, appeared caught off-guard. The Pentagon has in recent days sought to strike a balance between words of warning to the North and attempts to calm the situation. General Dempsey's reaction suggested that he was not pleased to have the DIA assessment made public, as it could further stoke anxieties over what is already a enormously tense international standoff.
Representative Lamborn read from the report toward the end of a defense budget hearing.
"They say, 'DIA assess with moderate confidence the North currently has nuclear weapons capable of delivery by ballistic missiles. However, the reliability will be low.' General, would you agree with that assessment by DIA?" he asked
---