Afghanistan war can yet be won, US general tells Congress
The commander of US forces in Afghanistan outlined three achievements that would secure a 'win' after 11 years of combat – acknowledging none is yet in hand. He gave Congress a report Tuesday on the war's progress.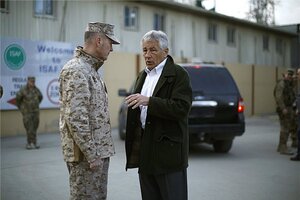 Jason Reed / Pool / AP
Is it still possible for the United States to "win" the war in Afghanistan, which, at 11 years, is the longest war in US history?
Yes is the assessment of Gen. Joseph Dunford, commander of US forces in Afghanistan, who was on Capitol Hill Tuesday testifying on the progress of the war.
It is not the sort of portrait of victory Pentagon officials had envisioned at the war's start – and may even be a victory that defies the definition of the word.
Still, Dunford told lawmakers, he is determined to keep using the word "win."
"For the last few years, many people have shied away from using the word 'win.' I personally have used that word since arriving in Afghanistan," he said. "I frankly think that when we're talking to 18-, 19-, 20-, 21-year-old soldiers, sailors, airmen, and Marines, we ought to talk in those terms."
He went on to describe what "win" might look like: Afghan national security forces (ANSF) taking over the "lead" in security operations in 2014 "is an important component of winning, and I think we have a plan that's in place to do that."
What, precisely, it means for ANSF to take the lead in security operations has changed frequently over the years.
At one time, commanders spoke of the goal of ANSF units operating "independently." Military officials rarely use that word anymore, however.
That's because only one Afghan National Army brigade in the country's military currently operates "Independent with Advisors," a somewhat oxymoronic label that is now the highest rating that any ANA unit can achieve.
It's unclear how many more brigades will be able to achieve that rating, given the current attrition rate in the Afghan Army, which continues to present "a significant challenge," Dunford acknowledged.
The attrition rate amounts to a loss of 5,000 troops per month, or 60,000 a year. "Vacancies are not always filled quickly or with properly trained personnel," he added. "The ANA's sustained high attrition rates remain a significant concern and threaten the growth and development of a professional, competent, and capable force."
---