Top US general foresees 'prolonged provocation' by North Korea
Belligerence by North Korea, coinciding with Kim Jong-un's ascent as leader, is likely to continue for a 'prolonged' period, Gen. Martin Dempsey said Wednesday after a trip to China. He believes China's military to be as 'concerned' as the US about North Korea's actions.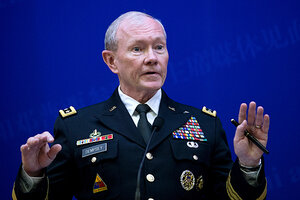 Andy Wong/AP
North Korea is in ever-greater danger of provoking a fight under the leadership of Kim Jong-un, America's top military officer said Wednesday.
"I think we're in a period of prolonged provocation" with North Korea, a condition that began when Kim Jong-un took over as leader of the military dictatorship from his father in late 2011.
"What that means is, I think, that the risk of miscalculation is higher, and I think the risk of escalation is higher," Gen. Martin Dempsey, chairman of the Joint Chiefs of Staff, said during a visit to Beijing this week, where Pentagon officials have sought China's help in convincing Mr. Kim to ratchet down his confrontational rhetoric.
In recent weeks members of Congress have accused China, North Korea's only ally and largest provider of food aid, of not doing enough to rein in Kim.
General Dempsey says that on the heels of talks this week with his counterparts in the Chinese military, he is convinced that they are as worried about the dictator's behavior as US officials are.
"I will leave here with the belief that the Chinese leadership is as concerned as we are with North Korea's march toward nuclearization and ballistic missile technology, and they have given us an assurance that they are working on it, as we are," he said.
---