Syria chemical weapons: Pentagon weighs evidence, plans response
Pentagon officials say they are still trying to confirm reports that Syria has used chemical weapons against civilians, but that they are preparing a military option for any outcome.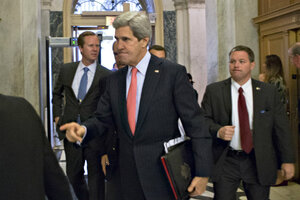 J. Scott Applewhite/AP
The Pentagon is tracking intelligence coming out of Syria that President Bashar Assad's regime has used outlawed chemical weapons against its own people, and it is preparing a US military response, America's top military officer said Friday.
Defense officials caution, however, that they are still trying to determine the reliability of reports of chemical weapons used against Syria's civilians.
"We know that they have them," says a senior US military official of chemical weapons, speaking on condition of anonymity. "We don't know for a fact whether they've used them."
Defense Secretary Chuck Hagel, echoing a White House statement Thursday, warned that the United States believes "with varying degrees of confidence" that the Syrian government has used chemical weapons against its people. On Friday, Secretary of State John Kerry briefed House members on Syria's alleged use of the poisonous gas in its ongoing civil war.
---