'Sequester' hits home for Pentagon as 800,000 civilian workers furloughed
The sequester budget cuts have led the Pentagon to force the majority of its civilian workers to take unpaid leave – but the blow isn't as bad as it could have been.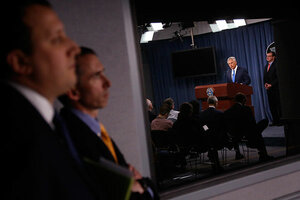 Jonathan Ernst/Reuters/File
The Pentagon's civilian workforce learned just how extensive its "sequester"-related furloughs would be on Tuesday, with the announcement by Defense Secretary Chuck Hagel that 800,000 employees would be forced to take unpaid leave.
That figure represents most of the Department of Defense's civilian workers. Media reports suggest 10 to 15 percent of civilian workers could get exemptions. The rest are expected to be affected.
There was a glimmer of what the Pentagon did its best to emphasize as good news: that the planned number of furlough days would be reduced from 14 to 11 for most Department of Defense (DoD) employees.
Still, the furloughs are expected to leave a mark on the lives of civilian workers and Pentagon business.
"I made this decision very reluctantly, because I know that the furloughs will disrupt lives and impact DoD operations," Secretary Hagel noted during a town hall meeting with civilian workers and troops Tuesday afternoon. "I recognize the significant hardship this places on you and your families."
For months, US troops have raised concerns about the impact of losing skilled and specialized workers – many of the Defense Department workers who specialize in areas such as cyberwarfare and defense are civilians, for example.
Services will be able to apply for furlough exemptions for civilians working in some of the most critical fields, including all employees deployed or temporarily assigned to a combat zone. This will also likely include specialties like nuclear operations, says Laicie Heeley, an analyst with the Center for Arms Control and Non-Proliferation.
Beyond these critical positions, however, some nuclear weapons upgrades will likely face delays due to a shortage of personnel to handle them, Ms. Heeley adds.
---