How can Chuck Hagel fix military sexual assault epidemic? (+video)
President Obama and Defense Secretary Chuck Hagel have stressed to graduates of the US military academies that rampant rates of sexual assault could corrode the force.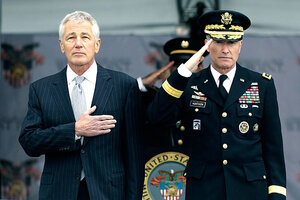 Mike Groll/AP
On consecutive days, President Obama and Defense Secretary Chuck Hagel have told the next generation of military leaders that sexual assault is threatening the dignity and effectiveness of the force.
Though the war in Afghanistan continues, the Obama administration has, in many ways, already begun to turn the Pentagon toward a new set of challenges. Mr. Obama's address to the National Defense University Thursday spoke to the strategic parts of that shift – from stricter rules for drone strikes to new rules for the detention facility at Guantánamo Bay.
But the president's speech the next day to graduates of the US Naval Academy in Annapolis, Md., stressed that stamping out an epidemic of sexual assault within the military must also be a primary goal. Secretary Hagel made the same point Saturday in a speech to graduates at the US Military Academy in West Point, N.Y.
But what can be done?
There is ample evidence to suggest that no solution will be easy or quick. A survey released earlier this month suggests that 26,000 people in the military were sexually assaulted in the previous year – a rate of 70 a day. Moreover, only 3,400 incidents were reported, suggesting a widespread lack of confidence in the military justice system on the issue.
Due to a lack of research, the trend line is unclear. The current number is up from the previous year (19,000) but down from 2006 (34,000).
Meanwhile, recent weeks have brought a flood of troubling allegations. This month, two members of military sexual-assault prevention units – one for the Air Force and one at the Army's Fort Hood in Texas – have been accused of sexual assault. And last week, a sergeant at West Point was charged with secretly videotaping female cadets in the shower.
---