Chinese cyberattacks hit key US weapons systems. Are they still reliable?
A new report suggests that many advanced US weapons systems have been hacked, and experts say China was behind the cyberattacks. If there were a war with China, the weapons might not be reliable.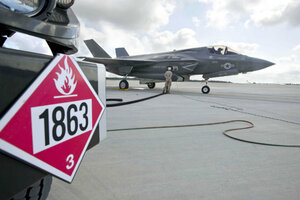 Devon Ravine/Northwest FloridaDaily/AP
Dozens of key US weapons system designs and technologies have been compromised by Chinese hackers, creating fresh uncertainty over America's warfighting capabilities in any future conflict in Asia, according to a defense advisory group study and defense policy experts.
The laundry list of US weapons systems whose files have been accessed during the past decade by Chinese hackers includes some of the nation's most expensive and exotic programs. The list was contained in a confidential version of a Defense Science Board report, according to The Washington Post.
The list includes the Terminal High Altitude Area Defense missile system, the V-22 Osprey tilt-rotor aircraft, Patriot Advanced Capability-3 antimissile system, along with the Global Hawk unmanned aerial vehicle, the Aegis ballistic missile defense system, and the F-35 Joint Strike Fighter.
The long-term impact, experts say, could be to give China an edge in any confrontation as well as speeding deployment of advanced military technology that will cost it billions less to develop, defense experts say.
The unclassified version of the Defense Science Board report entitled, "Resilient Military Systems and the Advanced Cyber Threat," which did not contain the list and barely mentions China, was released in January. But defense officials, speaking anonymously, told the Post that Chinese hackers are behind the attacks on most of the systems on the list in the restricted version.
"The Defense Science Board, a senior advisory group made up of government and civilian experts, did not accuse the Chinese of stealing the designs," the newspaper reported. "But senior military and industry officials with knowledge of the breaches said that the vast majority were part of a widening Chinese campaign of espionage against US defense contractors and government agencies."
---