SEAL Team 6 could include women by 2016 under Pentagon plan
The Pentagon has said women will be able to compete for positions within Special Operations Forces like SEAL Team 6. The transition won't be simple, officials warn.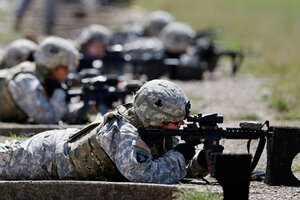 Mark Humphrey/AP/File
The Pentagon announced Tuesday that it is moving forward with the "complete integration" of women into US Special Operations, suggesting that women will be eligible to compete for slots in the elite Army Rangers and Navy SEAL Team 6 units.
"The days of Rambo are over," Maj. Gen. Bennet Sacolick, director of force management and development for US Special Operations Command (SOCOM) told reporters Tuesday. "The defining characteristic of our operators [is] intellect."
But while such a move has the potential to "provide a new and powerful dimension" to Special Operations, "much work remains to be done," according to a Department of Defense memo from SOCOM head Adm. William McRaven.
This includes studying what the social impact of having women as special operators might be, as well as better understanding the challenges that go along with "integrating women into small, elite teams that operate in remote, austere environments," wrote Admiral McRaven in his memo to the joint chiefs on March 22.
Under the current plan, women could begin training with Army Rangers by 2015 and with Navy SEALs by 2016.
In his note to the joint chiefs, McRaven expressed some reservations about the move.
---