DOMA: Military spouses to see benefits 'as soon as possible,' Hagel vows
The Supreme Court ruling against DOMA 'helps ensure that all men and women who serve this country can be treated fairly and equally,' Defense Secretary Hagel says.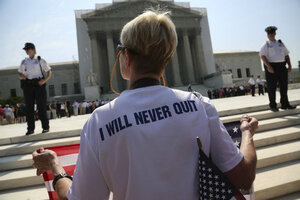 Jonathan Ernst/Reuters
With the Supreme Court decision striking down the Defense of Marriage Act (DOMA), the Pentagon will move "as soon as possible" to make all the same benefits available to all military spouses, regardless of sexual orientation, the nation's top defense official announced Wednesday.
This will include burial for spouses of US troops at Arlington National Cemetery, as well as survivor benefits and identification cards that will allow them access to base gyms and grocery stores.
Same sex partners will also now be eligible for health care and be factored into housing allowances, two of the biggest sore points for many gay service members who came out when Don't Ask, Don't Tell was repealed in 2010.
The Defense of Marriage Act prohibited the Pentagon from extending these benefits to spouses, because it defined marriage as between a man and a woman. The Supreme Court Wednesday upheld a lower court ruling that the law, enacted by Congress in 1996, is unconstitutional.
"The Department of Defense welcomes the Supreme Court's decision today on the Defense of Marriage Act," said Defense Secretary Chuck Hagel in a statement issued quickly on the heels of the ruling's announcement.
To that end, the Pentagon "will immediately" begin the process of implementing the Supreme Court's decision in consultation with the Department of Justice, Secretary Hagel said.
"Today's ruling helps ensure that all men and women who serve this country can be treated fairly and equally, with the full dignity and respect they so richly deserve."
---