Rebuilding Iraq: Final report card on US efforts highlights massive waste
Here are five of the most wasteful projects uncovered by the Inspector General for Iraq Reconstruction. Its final report paints a 'very grim picture' of America's ability to plan and carry out large-scale nation-building operations.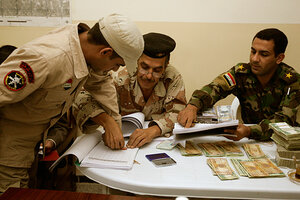 Mohammed Ameen/AP
The US reconstruction operations in Iraq constituted the largest project of its kind ever undertaken by America, but it was plagued by a host of challenges, including corruption and waste, that cast a poor light on the US ability to undertake such projects, the author of the official report on the program told Congress this week.
"For all of the good intentions, it was a program replete with challenges, over-promises, setbacks, and shortcomings," the Republican chairman of the House Middle East subcommittee, Rep. Ileana Ros-Lehtinen of Florida, noted in the hearing Thursday.
These efforts have been plagued by waste, too, of much of the $60 billion in US taxpayer money used to fund the rebuilding of Iraq, agreed Rep. Ted Deutch (D) of Florida in a rare moment of robust bipartisan unity.
At the same time, private defense contractors, which had some 170,000 employees on the ground, reaped some $140 billion in profits in Iraq, he said. Some of these profits came from flagrant overcharging, such as the contractor that billed the US government $900 for a switch that was valued at $7.05, a 12,000 percent markup.
Here are five of the most wasteful projects uncovered in "Learning from Iraq: A Final Report from the Special Inspector General for Iraq Reconstruction," which summarized 220 audits and 170 inspection reports over nearly a decade and "painted a very grim picture of our ability to adequately plan, execute, and oversee large-scale stability and reconstruction operations."
Water treatment
Water projects resulted in "some of the costliest US-funded reconstruction efforts in the entire program," the report noted. Indeed, three treatment plants throughout the country cost the US government a total of $545 million.
The goal of the Coalition Provincial Authority (CPA) goal was to increase access to drinkable water to 90 percent of Iraqis. The State Department later determined "these goals to be unrealistic, because there was no baseline data on Iraq's water and sanitation infrastructure," the special inspector general (SIGIR) found.
---