No-fly zone in Syria 'no less than an act of war,' top general says
In a letter to Congress, the chairman of the Joint Chiefs of Staff cautions that a no-fly zone in Syria could also be costly, averaging as much as $1 billion per month.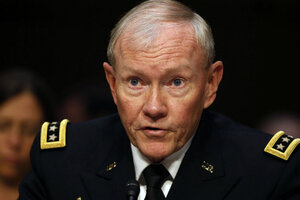 Larry Downing/Reuters/File
The nation's top military officer weighed in on the dangers of a US intervention in Syria, warning that launching a US war there would be extremely costly and could fail to reduce the violence.
A US military foray, should it be ordered by President Obama, could also inadvertently empower extremist groups that do not feel warmly toward America and its policies, noted Gen. Martin Dempsey, chairman of the Joint Chiefs of Staff.
"I know that the decision to use force is not one that any of us takes lightly," he said. "It is no less than an act of war."  
His comments came in a letter delivered to lawmakers on Monday, written in response to questions from Sen. Carl Levin (D) of Michigan, the chairman of the Senate Armed Services Committee, and Sen. John McCain (R) of Arizona, who threatened last week to hold up General Dempsey's renomination for the top military adviser job if he didn't answer the queries.
Senator McCain has repeatedly advocated for a no-fly zone over Syria, for example. Dempsey, on the other hand, has cautioned that such a move would likely have only a limited impact on violence, since most of the civilian casualties are being caused by mortars, artillery, and missiles.
What's more, the costs of establishing such a zone would be high, at $500 million initially, and then "averaging as much as a billion dollars per month over the course of a year."
Meanwhile, the pilots spearheading such a campaign would be in peril. "Risks include the loss of US aircraft, which would require us to insert personnel recovery forces," Dempsey wrote. "We would require hundreds of ground and sea-based aircraft, intelligence and electronic warfare support, and enablers for refueling and communications." 
Controlling chemical weapons would also be a daunting prospect, with costs that could "average well over $1 billion dollars per month." 
This would involve destroying portions of Syria's "massive stockpile," which, at minimum, would call for a no-fly zone "as well as air and missile strikes involving hundreds of aircraft, ships, submarines, and other enablers."
What's more, "thousands" of US Special Operations Forces would be needed to "assault and secure critical sites."
And the likely result of spending these billions of dollars and endangering thousands of highly skilled troops, according to Dempsey? "The impact would be the control of some, but not all chemical weapons," he writes. 
With this assessment, Dempsey makes a pitch for "overall whole-of-government strategy for achieving our policy objectives in coordination with our allies and partners."
The US could help "develop a moderate opposition – including their military capabilities – while maintaining pressure on the Assad regime." 
As Mr. Obama and lawmakers weigh options, "We must also understand risk," Dempsey warns. "Once we take action, we should be prepared for what comes next. Deeper involvement is hard to avoid." 
---