Bradley Manning acquitted of 'aiding the enemy' but not of espionage
With an acquittal, Bradley Manning avoided his most serious charge, but he still faces convictions on multiple counts of violating the Espionage Act and theft. The judge has broad discretion for sentencing.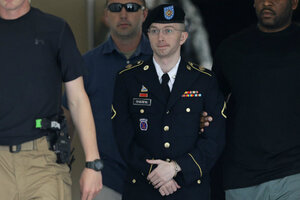 Patrick Semansky/AP
Pfc. Bradley Manning was found not guilty on Tuesday of "aiding the enemy" for his role in providing documents to the online site WikiLeaks, a charge that could have sent him to prison for life without possibility of parole.
The intelligence analyst, who pleaded guilty to a number of lesser offenses before the trial began, was also charged with several counts under the Espionage Act.
The verdict was greeted with mixed feelings by Manning supporters, including the American Civil Liberties Union. "While we're relieved that Mr. Manning was acquitted of the most dangerous charge, the ACLU has long held the view that leaks to the press in the public interest should not be prosecuted under the Espionage Act," said Ben Wizner, director of the ACLU's Speech, Privacy, and Technology Project, in a statement.
They also argued that the US government was seeking to send a statement to self-described whistle-blowers.
"Since Manning already pleaded guilty to charges of leaking information – which carry significant punishment – it seems clear that the government was seeking to intimidate anyone who might consider revealing valuable information in the future."
So what's next for Manning?
The judge, Col. Denise Lind, will convene the sentencing phase of the trial on Wednesday.
Colonel Lind is not bound by any mandatory minimum sentences, notes Richard Rosen, former commandant of the Judge Advocate General School for the US Army and the director of the Center for Military Law and Policy at Texas Tech University School of Law in Lubbock.
---