Has Pentagon chief reversed his position on striking Syria?
Gen. Martin Dempsey, the top Pentagon officer, repeatedly warned against the costs and potential entanglements of military involvement in Syria. Now he's testifying on behalf of the White House.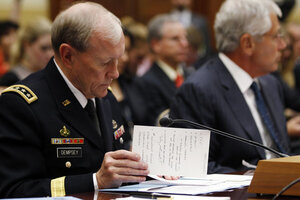 Jason Reed/Reuters
The nation's top military officer warned repeatedly in recent months that getting US military involved with Syria is a dangerous proposition that runs the risk of quick escalation.
In congressional testimony this week, however, the chairman of the Joint Chiefs of Staff, Gen. Martin Dempsey, has been put in the tricky position of defending the White House desire to launch a strike there.
Did he change his mind, or is he just doing the White House's bidding?
In the past, he has made it clear that US military intervention could tip the balance of power in favor of Islamist rebels who don't necessarily have the interests of the United States at heart.
What's more, he has warned, any Pentagon foray directed by the president could have the unintended consequences of miring US troops more deeply in the Syrian conflict.
As lawmakers weigh options, "We must also understand risk," Gen. Dempsey warned in a July letter in response to Sen. John McCain (R) of Arizona, which he was required to provide in order to be reconfirmed for his current position. "Once we take action, we should be prepared for what comes next. Deeper involvement is hard to avoid."
This came after a testy exchange in which Dempsey speculated that perhaps Senator McCain blamed him for the decision not to act earlier in Syria.
---