Navy's sexual assault number goes up. Better reporting?
Sexual assaults reported in the Navy increased by 50 percent over last year. Officials say that's because training and awareness programs have helped make sailors more willing to report such assaults.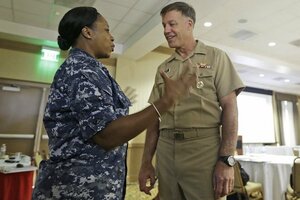 Steve Helber/AP
Senior military officials endeavored to put a positive spin on the news this week that the number of sexual assaults reported in the Navy increased by 50 percent over last year.
It is a sign, they say, of the growing comfort with which sailors are reporting sexual assaults within their ranks.
"What we're trying to do is close that gap between anonymous surveys where sailors say that they've been victims of sexual assault in their past to those sailors that actually come forward to report," Rear Adm. Sean Buck, the Navy's top sexual assault prevention and response coordinator, told reporters.
"The initial goal is to close that gap to where the number of reports actually equal the number of survey responses – and then ultimately to have both of those numbers decline down to zero," Adm. Buck said.
RECOMMENDED: On the front lines of sexual assault in the military: Army chaplains
The Navy released the figures at a training conference for the service's sexual assault response coordinators in Norfolk, Va.
The conference comes in the wake of efforts throughout the force to bring down the levels of sexual assault within the US military.
A Pentagon report released in May found that while 26,000 US troops reported having been sexually assaulted the previous year, only 2,949 had come forward to report the crime.
Often, this is because victims do not believe that reporting the assault will result in any punishment for the perpetrator, according to previous military surveys.
In an effort to increase the rates of prosecution and encourage victims of sexual assault to come forward, the Air Force in January launched a pilot program to provide lawyers to help victims who chose to go forward with a case navigate the military justice system.
---