During winter recess, Democrats keep Congress in session to thwart Bush
The tactic is a result of a 'press for presidential power,' some analysts say. But it's too early to tell whether the use of pro forma sessions will mean no more recess appointments by the president.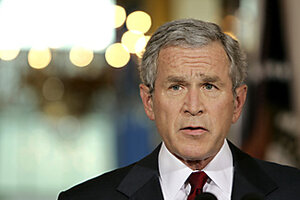 Joshua Roberts/Reuters/file
At high noon on Jan. 3, Sen. Mary Landrieu (D) of Louisiana is on tap to open and close the Senate – an exercise that should take about 25 seconds.
But the political impact of this pro forma session – one of 11 that Democrats have scheduled until the Senate reconvenes on Jan. 22 – is bigger than time elapsed on the clock.
Even with President Bush and Congress out of town, warfare between the two branches continues.
By staying in session, however briefly, the Senate preempts potential recess appointments that could fill terms for the rest of the Bush presidency.
It's a procedural tactic that Senate Republicans considered in the early 1990s to prevent recess appointments by the Clinton administration.
But this session marks the first time the tactic has been carried out all through the typical holiday recess.
"Polarization and divided government is a formula for this kind of interbranch rivalry," says Julian Zelizer, a congressional historian at Princeton University in Princeton, N.J.
"We had the government shutdown under President Clinton. But the added factor you have now – more so than in the 1990s – is a phenomenal press for presidential power. The Senate won't leave town because there is no more trust that the president will respect the institution of Congress," he adds.
Political analysts say it's too early to tell if this new procedural weapon means that recess appointments are a thing of the past. Mr. Bush has made 165 recess appointments, most recently on Oct. 15, according to the US Senate Historical Office. During his eight years in office, Mr. Clinton made 140, including 53 between sessions of Congress.
---