Molly Clause's night at the caucus
An Iowa Democrat has 30 minutes to rustle up five more votes for her candidate.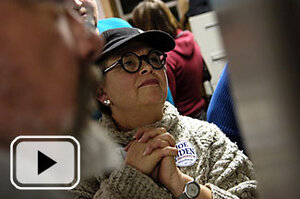 Andy Nelson - staff
– Molly Clause, an office assistant with a swoop of salt-and-pepper hair and a good-natured laugh, wrestled for months over which Democrat to caucus for Thursday night.
But when she finally decided two weeks ago to back Sen. Joseph Biden Jr., she knew that her real work as an Iowa citizen was still ahead of her.
Republican caucusgoers here have it easy. It's one person, one vote, usually taken by secret ballot. But for Democrats, particularly those supporting underdog candidates, the caucus is a public crucible, a test of stamina and persuasion that unfolds in front of friends and neighbors and can leave participants exultant or crestfallen.
Senator Biden of Delaware had been polling at just 4 or 5 percent in recent polls in Iowa. But to have her support for him count under the byzantine rules of the state's Democratic Party, Ms. Clause knew she'd need to persuade at least 15 percent of the people in her precinct to back him.
If Biden failed to meet this test of "viability," she would face a stark choice: abandon him for a candidate with more than 15 percent support or leave the caucus.
"I'm getting scared," she said at her home in farm country west of Des Moines Wednesday night, as she thought about the next evening. "I can do it when it's just me. But trying to get others to join me, that is different."
She turned toward the logs crackling in the fireplace and sighed. "We'll see what tomorrow brings."
'I want skill'
---