Iowans pick Huckabee and Obama, endorsing change
Caucus results shake up the race for the White House in both parties.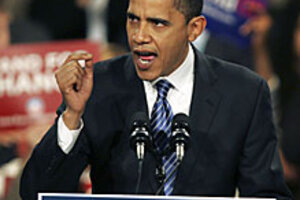 Rick Bowmer/AP
Convincing victories in the Iowa caucuses for Republican Mike Huckabee and Democrat Barack Obama have shaken up the race for the White House in both parties.
Amid record turnout, both men won over significant portions of Iowa caucusgoers by preaching change and presenting charismatic personas that struck voters as authentic. Mr. Huckabee, the former governor of Arkansas, made up for a lack of money and a small organization with the fervor of his supporters, many of them evangelical Christians like him. Mr. Obama, a first-term senator from Illinois, also enjoyed the most spirited support in his party, drawing massive crowds at rallies and reaching out successfully to young people, independents, and even some Republicans.
"Tonight we proved that American politics still is in the hands of ordinary folks like you," Huckabee said, reflecting the populist bent of his campaign.
Obama's victory speech highlighted his goal of ending divisiveness: "We are one nation," he said. "We are one people and our time for change has come."
---