Stakes high for New Hampshire primary
The Democratic contest is more likely to be decisive.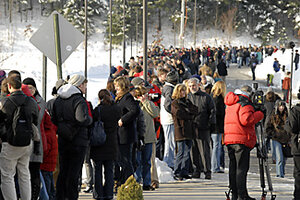 mary knox merrill – staff
On the eve of the New Hampshire primary, voters here are poised to turn out in record numbers in a contest that could prove decisive for the Democrats and muddy the Republican field.
Most polls show a tight race on the Democratic side, but with momentum in the direction of Barack Obama. After the Illinois senator's historic victory in the Iowa caucuses Jan. 3 – making him the first African-American to win an early nominating contest in US history – he continues to draw massive crowds here in the Granite State.
On the Republican side, John McCain looks poised to be the "comeback codger" of the 2008 cycle. Left for dead politically last summer after his campaign imploded, the Arizona senator has come roaring back in the state that fell in love with him eight years ago and gave him a resounding victory in the New Hampshire primary against the eventual president, George W. Bush.
"It feels like we've caught the lightning in the bottle again," Senator McCain told reporters on his campaign bus, according to news reports.
Former Arkansas Gov. Mike Huckabee won the Republican caucuses in Iowa, on the backs of evangelical voters. But with minimal presence here and facing a GOP electorate with a much smaller proportion of religious conservatives than in Iowa, Mr. Huckabee set his sights on capturing at most third place. In the GOP, the candidate with the most to lose here is Mitt Romney, former governor of next-door Massachusetts.
---