New Hampshire turning 'blue'
Most independents say they'll vote Democratic.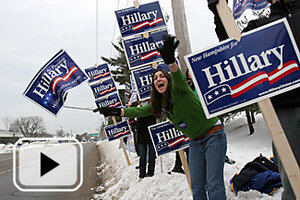 Nicole Hill
The Republican Party in New England's only "red state" may be going the way of the Old Man of the Mountain, the craggy icon of independence that crumbled a few years back in a rock slide.
In the last election, Democrats took both seats in Congress for the first time in nearly a century and both houses of the legislature for the first time since 1874. Democratic Gov. John Lynch won a second term with a record 74 percent of the vote, and lawmakers recently authorized same-sex civil unions and a smoking ban in bars and restaurants.
The "Live Free or Die" state is becoming "Blue Hampshire." The Granite State, said a blog for the conservative National Review, is "trending alarmingly Granola State."
The shift, driven by an influx of new residents, injects a new dynamic into the first-in-the-nation presidential primary here Tuesday. In 2000, some 62 percent of New Hampshire's independent voters – who can take part in either party's primary – cast a ballot in the GOP race, lifting Sen. John McCain to victory.
---